posted by Christopher Howard — Aug 28, 2008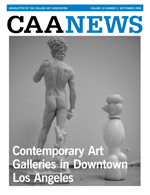 The September CAA News has just been published. With the newsletter back in print, individual and institutional members will receive a copy in the mail next month; the newsletter is also available immediately as a PDF download.
The September issue celebrates the tenth anniversary of caa.reviews, the online journal that launched in fall 1998. Also, in preparation for the 2009 Annual Conference, the issue contains an article on the hottest contemporary art galleries downtown in Los Angeles, including those in Chinatown.
A number of important deadlines for participation in CAA activities also appear: calls for nominations for editor-in-chief of Art Journal and reviews editor of The Art Bulletin (September 15); for conference travel grants (September 26); for applications for graduate-student fellowships (October 1); and more.
The deadline for submissions to the November issue is September 10; please send them to Christopher Howard, CAA managing editor. If you wish to receive CAA News in electronic format only, please contact CAA Member Services.