posted by Emmanuel Lemakis — Dec 01, 2008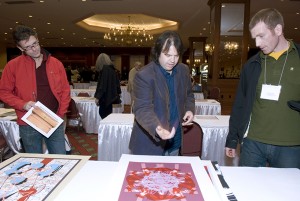 CAA's Services to Artists Committee invites artist members to participate in ARTexchange, an open forum for sharing work at the Annual Conference. ARTexchange, to be held Friday evening, February 27, at the Los Angeles Convention Center, is free and open to the public; a cash bar is available.
The space on, above, and beneath a six-foot table is available for each artist's exhibition of prints, paintings, drawings, photographs, sculptures, and small installations; performance, sound, and spoken word are also welcome. Previous ARTexchange participants have found that this parameter sparked creative displays, and the committee looks forward to surprises and inspiring solutions at the upcoming conference. Please note that artwork cannot be hung on walls, and it is not possible to run power cords from laptops or other electronic devices to outlets—bring fully charged batteries.
To participate in Los Angeles, please write to the ARTexchange coordinators, with the subject heading "CAA ARTexchange." Include your CAA member number and a brief description of what you plan to present. Please provide details regarding performance, sound, spoken word, or technology-based work, including laptop presentations. You will receive an email confirmation. Because ARTexchange is a popular venue and participation is based on available space, early applicants are given preference.
Participants are responsible for their work; CAA is not liable for losses or damages. Sales of work are not permitted. Deadline: December 15, 2008.
Photograph by Teresa Rafidi.