posted by Christopher Howard — Feb 05, 2009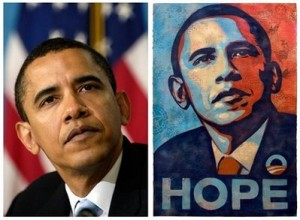 The Associated Press (AP) is claiming copyright in the image used by the street artist Shepard Fairey for his famous poster of Barack Obama. Fairey acknowledges that his image is based on a 2006 photograph taken by Manny Garcia while on an AP assignment at the National Press Club in Washington. "The AP says it owns the copyright, and wants credit and compensation," writes Hillel Italie, a reporter for the news organization. Anthony Falzone, who is Fairey's attorney, the executive director of the Fair Use Project at Stanford University, and a lecturer at the Stanford Law School, is arguing for fair use.
An exhibition of Fairey's work opens tomorrow at the Institute of Contemporary Art in Boston, Massachusetts, on view through August 16, 2009.
In related copyright news, a lawsuit was filed in late December against the artist Richard Prince and Gagosian Gallery by the French photographer Patrick Cariou. Prince appropriated photographs from Cariou's book Yes Rasta from 2000 in his recent exhibition of work; the work was also reproduced in a catalogue published by the gallery. Daniel Grant has the story for the Wall Street Journal.