posted by Christopher Howard — Dec 05, 2016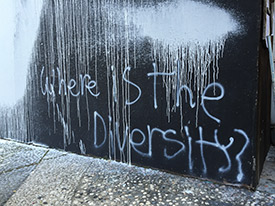 The 2017 Annual Conference in New York, taking place February 15­–18, boasts a number of presentations addressing the intersections of race and contemporary art, colonialism in art history, and the Black Lives Matter movement. Here are a few highlights:
Deborah Willis of New York University and Cheryl Finley from Cornell University will provide a historical overview through a session titled "Picturing Social Movements from Emancipation to Black Lives Matter." Kellie Jones, an art historian at Columbia University and winner of a 2016 MacArthur fellowship, is among the speakers. Public Art Dialogue, one of CAA's many affiliated societies, will host a discussion on "Public Art in the Era of Black Lives Matter." The first presenter will be Evie Terrono from Randolph-Macon College in Virginia, who has researched "Symbolic Interventions, New Narratives: Challenging the Authority of the Confederate Flag."
The session "Race and Labor in the Art World" will be chaired by Hayes Peter Mauro of Queensborough Community College, City University of New York. The scheduled speakers—Sarah Cervenak, John Ott, and LaTanya Autry—teach in North Carolina, Virginia, and Connecticut, respectively. Elsewhere, four panelists will offer case studies of race and representation in nineteenth-century art, and another collection of scholars will examine "Blackness, Violence, Representation." The Arts Council of the African Studies Association, also a CAA affiliated society, has given the tantalizing title of "Flesh" to its session, while another panel will give form to "Post-Black and Liquid Blackness" in contemporary African American art.
Richard Hylton from University for the Creative Arts in England will lead a panel that sheds light on British perspectives regarding "Contemporary Art, Ethnography, and the Western Museum," while scholars from Italy and South Africa will lead a session called "Writing Art History in the Margins: Rethinking Centers and Peripheries in 'Non-Western' Art Historiography." Finally, the Association for Critical Race Art History, another CAA affiliate, will present "Riff: Black Artists and the European Canon." Among the artists to be examined are Robert Colescott, Carrie Mae Weems, and Moe Brooker.