posted by CAA — Dec 26, 2016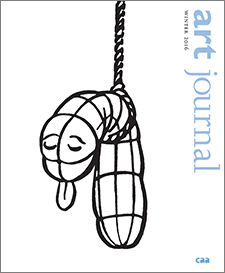 Rolando del Fico, last seen in 1970s Italian gay underground comics, is resurrected in the Winter 2016 issue of Art Journal. A project by the Catalan artist Francesc Ruiz revives the irrepressible character, picaresque hero of myriad amorous adventures, in a visual tribute replete with Rolando's thought-bubble iconography of salamis and cherubs in various states of excitement.
Other features in the issue explore little-examined aspects of more familiar bodies of work. Amy DaPonte analyzes the portraits of Turkish immigrants central to the early work of the German photographer Claudia Höfer. Liz Linden investigates the overlooked presence of the textual in the works Douglas Crimp gathered in 1977 for the watershed exhibition Pictures.
In the Reviews section, Lauren Richman reviews two exhibitions of work by the midcentury American photographer Lee Miller, along with their catalogues. The artist Liam Gillick considers a book by Dave Beech that grapples with the relation between art and capitalism in the contemporary neoliberal moment. Christa Noel Robbins assesses David J. Getsy's book that sees the sculpture of the 1960s through the lens of transgender and "transformable" bodies. Finally, Kent Minturn reviews Pierre Leguillon's book on the experimental typography of Jean Dubuffet—a significant compendium of the work that is also a work of art history.
CAA sends print copies of Art Journal to all institutional members and to those individuals who choose to receive the journal as a benefit of membership. The digital version at Taylor & Francis Online is currently available to all CAA individual members regardless of their print subscription choice.