posted by CAA — Mar 10, 2017
Each month, CAA's Committee on Women in the Arts selects the best in feminist art and scholarship. The following exhibitions and events should not be missed. Check the archive of CWA Picks at the bottom of the page, as several museum and gallery shows listed in previous months may still be on view or touring.
March 2017
From the Collection: Sister(s) In the Struggle: Angela Davis and Kathleen Cleaver
Ryerson Image Centre
33 Gould Street, Toronto, Ontario, Canada
Photographs of Angela Davis on view: January 18–March 5, 2017
Photographs of Kathleen Cleaver on view: March 7–April 9, 2017
Curated by Julie Crooks, Sister(s) In the Struggle: Angela Davis and Kathleen Cleaver features photographs of two leading female figures of the Black Panther Party taken from the Black Star Collection at the Ryerson Image Centre. "They were photographed excessively," Crooks said in an interview with Flare, "and their images were ubiquitous. They were in newspapers, they were in journals, they were on posters and their representations, or likenesses, were all over the place and that created this kind of cult presence…. At times the photographs could be detrimental to one's image, especially someone like Angela Davis, but I think they also fed into this kind of iconic status."
In choosing to pull photographs from the Black Star Collection from the civil rights area, Crooks explained that she wanted to humanize the representation of Davis and Cleaver, selecting images that offered a previously unexplored way of looking at them. The exhibition creates comparisons to many other women behind the scenes—those who are not remembered. "I wanted to highlight these photographs because the Black Power statement was, 'black is beautiful' and that was kind of a relentless message: that we are beautiful, despite hundreds of years of representation that told us otherwise, Crooks told Flare.
This exhibition is part of a collaboration between the Ryerson Image Centre and Black Artists' Networks Dialogue, called Power to the People: Photography and Video of Repression and Black Protest, which will run until April 9.
Amy Jorgensen: Something Old, Something New, Something Borrowed, Something Blue
Elizabeth Houston Gallery
190 Orchard Street, New York, NY
February 8–March 12, 2017
Something Old, Something New, Something Borrowed, Something Blue by Amy Jorgensen is a series of delicate handkerchiefs emblazoned with historic images of suffragettes. In fact, displayed on each piece of linen is the surveillance images of eighteen women taken from the 1913 Criminal Records Office of Scotland Yard.
"Recognizing in this episode a peculiar confluence of gazes, Jorgensen re-contextualizes and re-situates these images into the wider question of how women's identities are constructed, and how they are obstructed…. The gift of the handkerchief is a matrimonial tradition passed from mother to daughter, woman to woman. This work investigates the search for, or the making of, identity that draws upon the plurality and fraction of the self, and the span of influence that is made from generation to generation."
These discrete portraits of women suffragettes were taken and cataloged by Scotland Yard after a series of acts of civil disobedience, including arson, window breaking, and other public disturbances, which in turn created a national scandal. Jorgensen, who transferred the photographs to the handkerchief using cyanotype, an early-nineteenth-century photographic process pioneered by a woman, first discovered the images while researching Edna Berg, her great aunt and an impassioned suffragette from New York.
"The juxtaposition of these two histories—that of the matrimonial ceremony and that of the women of the suffragette movement—provides a jarring collision point for the examination of patriarchal structures both in history and contemporary culture."
Jennifer Brea: Unrest
Film
SXSW, Austin, Texas
March 10–19, 2017
After making its debut at the 2017 Sundance Film Festival, Unrest by the director Jennifer Brea travels to SXSW in Austin, Texas, this March. The film focuses on the life of Brea, who was diagnosed with Myalgic Encephalomyelitis, commonly referred to as chronic fatigue syndrome. Brea, a PhD student at Harvard University, found that she could not sign a check at a restaurant, becoming progressively worse in the months before her wedding. When doctors told her it was "all in her head," Brea turned her camera on herself, filming from the confines of her bed.
Myalgic Encephalomyelitis (ME) is a systemic neuroimmune condition characterized by post-exertional malaise—a severe worsening of symptoms after even minimal exertion. The root causes and physical effects are not fully understood, especially in women. As Brea described in a TED Talk, her neurologist diagnosed her with conversion disorder and said her physical symptoms were the result of some distance emotional trauma. "It is a perfect custom prison," Brea observed. "How can a disease this devastating be forgotten by medicine?"
"As I got sick, I found myself as part of cohort of women in their late 20s whose bodies were falling apart," Brea explained, "and how hard it was to be taken seriously." Her film explores her own diagnosis but also seeks to address the millions of others with the same condition.
As SXSW nears, screening days and times for Unrest will be posted on the schedule page. The full TED Talk with Brea can be found online.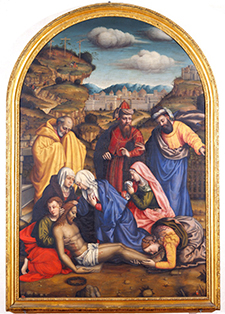 The Art of Suor Plautilla Nelli
Uffizi Gallery
Piazzale degli Uffizi, 6, Florence, Italy
March 8–April 30, 2017
In the first of an open-ended, annual series of exhibitions dedicated to women artists—what the Italian press is calling "pink exhibitions"—the Uffizi Gallery will showcase the work of Suor Plautilla Nelli (1523–1587), an artist nun who was Florence's first known female Renaissance artist. Works culled from her Domenican convent, as well as from churches and museums across central Italy, will go on display on March 8 to coincide with International Women's Day; they will remain on view until April 30. The Florence-based organization Advancing Women Artists Foundation, which has been instrumental in facilitating the restoration of Nelli's works, published the exhibition catalogue. Eike Schmidt, the Uffizi's current director, was motivated to pursue this initiative after a conversation with the Guerrilla Girls.
Leila Alaoui: No Pasara
Musée des Beaux-Arts
1380, rue Sherbrooke O, Montreal, Canada
Through April 30, 2017
On January 18, 2016, a young French-Moroccan photographer named Leila Alaoui was killed in an attack in Burkina Faso. Alaoui, who had been in the West African nation on assignment for a report on women's rights for Amnesty International, used her photography to highlight issues related to migration, displacement, and cultural identity. The twenty-four images of No Pasara, which means "no entry," depict young Moroccans who dream of a better life on the other side of the Mediterranean. The series was commissioned by the European Union in 2008.
In a review of her work last year, a critic for the Economist wrote: "Alaoui's photojournalism drove the reasons for the movement of humans—before and beyond today's crises—home, by turning a lens on those who have been and continue to remain unseen between world crises. Economic migrants in the regions she captured, including young Moroccans, Lebanese and Sub-Saharan Africans willing to make perilous crossings for a life in Europe were the consistent thread through her projects." Alaoui's hauntingly beautiful images offer a trenchant and poignant vantage point from which to consider the global immigration crisis.
Walled Garden in an Insane Eden
Sara Zanin Gallery
Via della Vetrina, 2, Rome, Italy
February 9–March 25, 2017
"Is it only the external landscape which is altering? How often recently most of us have had the feeling of déjà vu, of having seen all this before, in fact of remembering these swamps and lagoons all too well. However selective the conscious mind may be, most biological memories are unpleasant ones, echoes of danger and terror. Nothing endures for so long as fear."
—J. G. Ballard from The Drowned World (1962)
Borrowing its title from J. G. Ballard's science-fiction novel and one of its dystopic tales, this exhibition brings together a contingency of London-based artists whose work engages with the political uncertainties introduced into the European landscape in 2016. Their responses, which include drawings, paintings, sculptures, textiles, and performance, range from skeptical to hopeful. Organized by Marcelle Joseph, the exhibition features mostly women artists, including Rebecca Ackroyd, Gabriella Boyd, Kira Freije, Marie Jacotey, Florence Peake, and Zadie Xa.