posted by CAA — Aug 01, 2017
Hương Ngô: To Name It is to See It
Firelei Báez: Vessels of Genealogies
DePaul Art Museum
935 W Fullerton, Chicago, IL
April 27–August 6, 2017
In concurrent exhibitions, the DePaul Art Museum presents Firelei Báez, Vessels of Genealogies, and Hương Ngô, To Name It is to See It. Báez, a Miami-based Dominican-American artist, is known for her use of textiles, patterns, and bright colors. She often depicts identity through the use of hairstyles and tattoos in her large-scale paintings, evoking both beauty and political implications "for those whose cultural identities have remained traditionally absent from dominant culture." While Báez migrated to the United States, her work also addresses identity formation experienced by those who grew up in Latin, Caribbean, and African regions. She "challenges the basic idea of how race is experienced in the US—a condition defined as binary and black or white. In her work, one can appreciate that she is many cultures. She expresses the consciousness of a new generation eager to embrace their cultural prowess in terms of hybridity."
In To Name It is to See It, Ngô, focuses on Vietnamese anticolonial organizer Nguyễn Thị Minh Khai. Ngô draws connections between language and seeing. The artist said, "'To Name It Is To See It' evokes the promise of a discursive practice, identifying an injustice by name is the first step to understanding it and working towards change. At the same time, there is deception to the title because identification was a preoccupation of the colonial authorities…." The exhibition by Ngô features more than twenty-five individual pieces of art ranging from photos to video and fabrics.
SaveArtSpace: The Future is Female
Through Summer 2017
Various locations throughout New York City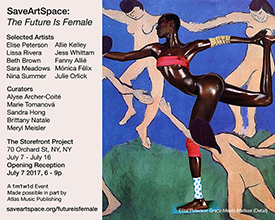 In this all-woman gallery and public art exhibition, The Future Is Female by SaveArtSpact features female artists on advertising spaces and billboards throughout the New York City area during summer 2017. The exhibit aims to expand upon the mainstream definition of "the female gaze" through works that reflect the multifaceted reality of womanhood in the twenty-first century and that expand upon society's traditional ideals of femininity.
"One such woman is artist Elise Peterson," writes Priscilla Frank in a HuffPost review, "whose piece Grace Meets Matisse injects a photographic image of Grace Jones into Henri Matisse's 1910 Dance, placing her in the center of a ring of naked dancers. The image puts Jones' black body into an image previously filled with white bodies, juxtaposing the flesh of the painted figures with the three-dimensional glow of Jones' self-actualized body, mid-performance." (http://www.huffingtonpost.com/entry/feminist-art-new-york-billboards_us_594abba7e4b0312cfb60fb92)
The work was curated by Meryl Meisler, Marie Tomanova, Alyse Archer-Coité, Sandra Hong, and Brittany Natale. In addition to Peterson, artists include Allie Kelley, Beth Brown, Fanny Allié, Jess Whittam, Julie Orlick, Lissa Rivera, Mónica Félix, Nina Summer, and Sara Meadows. Peterson's work can be viewed in various locations throughout New York City, including Grand Street and Ludlow Street (343 Grand Street).
Jeanine Oleson
Commonwealth & Council
3006 W 7th St. Suite 220, Los Angeles, CA
July 8–August 19, 2017
The amplification of sound and image is at the center of Jeanine Oleson's powerful exhibition at Commonwealth & Council. Using natural materials such as shell and glass within a performance-based lexicon, Oleson examines the effects of production under late capitalism, the meanings of community, and bodily experience. Three-dimensional imaging technology is employed to render visible what we already see but which we might not value; and elsewhere a transducer speaker made of shell expertly turns an object of childlike wonder into a proxy for political speech. Although not specifically positioned as a pendant to Oleson's Hammer exhibition, concurrently on view, many of the interests in the two shows are similar, and benefit from a close read. At issue in both is how one might become a conductor—realizing the longing for a political elsewhere—using materials of the body and the world? 
CUNT
Venus Over Los Angeles
601 S Anderson St, Los Angeles, CA
July 15–September 2
Although more iconographic than strictly historical, this group exhibition brings together six feminist artists who address the visuality of female bodies and their attendant sexualities. Betty Thompkins, Carolee Schneemann, VALIE EXPORT, Judith Bernstein, Dorothy Iannone, and Marilyn Minter may each depict the vulvic, but their similarities end there. Iannone's confessional work, I Was Thinking of You (1975/2006), displays a video of artist's face while she masturbates, housed in a lovingly decorated cabinet which recounts an old story of love and abuse (the text on the cabinet's exterior begins: "You walk into my quarters 2000 years ago which are outside the city gates….") The exhibition features new work by some of the artists—most notably a large black-light mural by Bernstein, in which a giant limp phallus covered in swastikas comes to stand for the "Trumpery" of America's current political hierarchy. Nearby, a vagina dentata seems to be growing out of the official seal of the United States. It is a caustic and damning work—one filled with heaps of rage and anger—revealing why explicitness in our lives, politics, and art are as necessary as ever.
As in Nature: Helen Frankenthaler Paintings
225 South Street
Williamstown, MA 01267
July 1–October 9, 2017
As in Nature: Helen Frankenthaler Paintings presents twelve of this major Abstract Expressionist artist's large-scale paintings. Made over the course of her long career, these works explore the tension between abstraction and representation and demonstrate her engagement with the landscape painting tradition. In particular, she found inspiration in the idyllic, wooded landscapes of the northeastern United States, home of the Clark Art Institute. Spanning the full range of styles, techniques, and formal preoccupations that Frankenthaler explored over five decades of work, these paintings are primarily abstract, yet reveal recognizable elements from the landscape that function, paradoxically, to reinforce their abstraction: as in nature, but not as in nature. As she said of one of her most iconic paintings, Mountain and Sea (1952), "The landscapes were in my arms as I did it. I didn't realize all that I was doing. I was trying to get at something—I didn't know what until it was manifest."
A publication, authored by guest curator Alexandra Schwartz, with contributions by Christina Kee, accompanies this exhibition.
Marina Abramović: The Cleaner
Gammel Strandvej 13
DK 3050 Humlebaek, Denmark, Copenhagen
June 17–October 22, 2017
This summer, the Louisiana Museum of Art presents Marina Abramović: The Cleaner, the first major European retrospective presentation of this pioneering body and performance artist. The exhibition at Louisiana comprises more than one hundred works and spans more than five decades—from early concept sketches, paintings, and sound works to presentations of the artist's performances—including her collaboration with former partner Ulay. Reperformances of an early work form part of the exhibition as well. The exhibition is structured chronologically, beginning with her Sound Corridor (War) of 1971, where the spectator is inundated with the sounds of gunfire, and ending with her quieter and more transformative works.
Marina Abramović: The Cleaner has been developed in a dialogue with the artist and is organized by Moderna Museet, Stockholm, in collaboration with the Louisiana Museum of Modern Art, Henie Onstad Kunstsenter, and Bundeskunsthalle, Bonn.