posted by CAA — Dec 12, 2018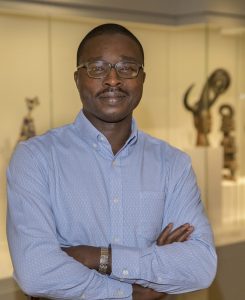 STATEMENT
I am an artist, art historian, and a museum curator, and active internationally. Although I have mostly been involved with the CAA annual conference as a participant, I am eager to contribute strongly to the activities of the Association. It is important that foreign-born minorities such as myself take on more active role. I came to the United States in 2007 for graduate studies and while I have since established myself as a museum curator, I know first-hand the indignity of being perceived as an outsider, the mental agony, physical and psychological struggle to fit-in in a new environment. I believe that several CAA members can relate to this experience.
The CAA has made significant strides in the last few years in expanding and creating a robust sense of belonging for different segments of its membership. I want to contribute in fulfilling and furthering its mission, goals, and priorities. Under these uncertain times of resurgent nativism and nationalism, the Association serves as a moral compass and a credible voice of advocacy on a range of critical issues impacting our world today. As a Green Card holder, it was heartening to note the CAA's timely response to the presidential executive order in February 2018 preventing immigrants and visitors from selected countries from coming to the United States, as well as its sustained advocacy in the face of the Supreme Court's decision to uphold the travel ban in June 2018. This order not only restricts the movement of some of our members and the wider body of art professionals but that of regular folk.
If elected to the CAA Board, I will focus my attention on (but not limited to) mentoring emerging scholars, artists, and museum professionals. Based on my personal experience, the importance of guidance and mentorship especially at the beginning of one's professional career cannot be overemphasized. As an artist myself, I will represent the interests of artists. In the last few years, the CAA has taken progressive steps in enhancing the participation of historically underrepresented groups in its membership and being a strong voice for diversity around the country. More can still be done. I will contribute to strengthening initiatives that eliminate structural barriers that impede diversity in our museums and similar institutions. In addition, I will contribute to actionable plans that can better serve the needs of our foreign-born colleagues and/or those who live outside of the United States whose experiences may not always be considered when developing strategies, creating content and programming for our esteemed Association.
The French-government recently released a report on the restitution of (African) objects in French museums. Based on the content and responses that this report has generated so far, it is apparent that it is a game-changer and portends ramifications beyond France and Europe. How CAA responds to this potential earthquake that could remarkably reshape art history and the museum world in near and far terms is yet to be seen. As an African-born museum professional working in an American institution, I hope to contribute in devising practical ideas and actionable plans that will take the interests of various stakeholders into account but which, ultimately, will address historical injustices wherever they are found.