posted by CAA — October 18, 2018
In July 2018, the Cuban government issued Decree 349, legislation targeting the artistic community on the island nation. Under the decree, all artists—including collectives, musicians, and performers—will be prohibited from operating in public or private spaces without prior approval by the Ministry of Culture. It is slated to go into full effect on December 7, 2018.
CAA released a statement of opposition to the decree last month. Recently, CAA media and content manager Joelle Te Paske corresponded with artist, activist, and 2016 CAA keynote speaker Tania Bruguera to learn more.
Joelle Te Paske: I've read that Decree 349 was signed in April and then announced without any consultation on July 10 in the government's newspaper. How did you first find out about it?
Tania Bruguera: Decree 349 was signed by the new President of Cuba [Miguel Díaz-Canel] without consulting artists—something even the national newspaper had to admit in a recent article, which was ironically published to defend the decree. Also, it was not publicly known until almost six months after it was official, but that didn't stop them from [moving to] apply it. It was used already with younger artists who participated in the alternative biennial when recording their artist ID registration, the only legal document that protects and allows someone to be an artist in Cuba. They also enforced it with us at the Instituto de artivismo Hannah Arendt (Hannah Arendt Institute of Activism), charging fines of $2,000 for not having permission from the Ministry of Culture to do what they call "artistic services" inside of my house. The last free space we had in Cuba was our homes—now with this law, they are also regulated spaces.
The government is presenting this decree as an innocent regulation, but it is in fact a muzzle to artists.
JTP: The decree is wide-ranging and applies to all cultural activity, not just visual art, is that right?
TB: Yes, they are cutting all the heads. There is a strong independent cinema movement, an alternative music scene, DIY theater, and new independent art galleries—they are all going to be gone. The government is presenting this decree as an innocent regulation, but it is in fact a muzzle to artists. We know that those permissions are not based on anything but ideological considerations, and it will be used as a blackmailing instrument. Also, it gives the government the right to decide who is and who is not an artist, what is and what is not art.
JTP: Luis Manuel Otero Alcántara, Amaury Pacheco, Iris Ruiz, Soandry Del Rio, and José Ernesto Alonso—artists who organized a protest performance on July 21—were arrested by Cuban police officials and charged with public disorder. Are tactics like this being used to intimidate artists who are speaking out?
TB: When you are protesting, when you get detained, you have already overcome your fears. In my experience, those repressive acts from the government consolidate your ideas. Confronting injustice unifies the group and makes people even more committed to fight. These detentions are designed to discourage by suggesting that your actions won't change anything. They try to back you away from doing bigger collective demonstrations. Their absurd repression and disproportionate reaction to any small action shows how they are proving themselves wrong. But the real goal of all these engineered scare tactics is to intimidate those who are not protesting.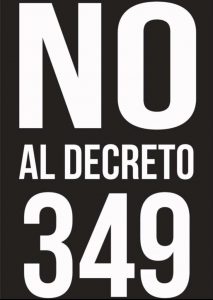 JTP: The decree specifically targets independent artists working without larger financial support structures. How do you think this will affect cultural life in Cuba?
TB: It is not a matter of finances at least for now—[the government] may use the same tactic of fake tax evasion charges that the Chinese government has used later on. Decree 349 also affects independent cinema which, comparatively, works with a larger budget. It is a matter of stopping artists from imagining, producing, and showing art independently. It is about the Ministry of Culture looking obsolete because it cannot control its artists, and so the law is intervening.
JTP: Amnesty International has written: "The lack of precision in the wording of the decree opens the door for its arbitrary application to further crackdown on dissent and critical voices in a country where artists have been harassed and detained for decades." Would you agree with their assessment?
TB: Absolutely. This is the real goal of Decree 349—it even says that the artworks must follow ethical and revolutionary principles, but those are not described anywhere in the text nor linked to any other document to be consulted. In case you want to do your art "within the law," there are no guidelines. "You should know better" and "Be submissive and compliant to the government's needs of the moment" seem to be the subliminal messages.
What the artists who now have the favor of the government do not see is that the permissive line always moves. Today they are within the law, tomorrow they may be outside of the law. Everyone is a potential dissident in the eyes of the Cuban government—they do not trust anyone, and less so artists.
JTP: CAA recently put out a statement of support for the artists and activists opposed to Decree 349. What advice would you give CAA members who want to help?
TB: I want to thank CAA for its support of our cause. It makes an immense difference because the Cuban government makes a lot of its internal decisions based on how they make them look internationally. Our only protection comes from organizations and people in the world who recognize our experiences beyond all the official propaganda. It is important that people, especially those who identify as leftists and progressives, realize that Cuba today is not the one from the 1960s, where it was full of humanistic promise. Now we have a Cuba where the law is not to establish justice, but to measure the loyalty to the government.
The "Cuban legal turn," as I call it, is an effort of the government to look "respectable" while abusing its power. They have found the perfect tool, one that is universally understood: the outlaws. No more conversations about politics or sympathies for you—now you are a common criminal. The Cuban government doesn't recognize political prisoners. You are accused of some common crime instead of the real one, which is political. This makes it murky for people to understand what is happening and to be able to show solidarity. The conversation will shift from political rights to if anyone has ever seen the person in question taking drugs, stealing, molesting someone, or making a public scandal. Doubt then takes over your judgement [as the onlooker], and you may think twice before supporting a freedom fighter because you feel uncomfortable about the issues they are falsely accused of. That's all the Cuban government needs from you, the ones outside of Cuba, the ones who can put pressure on them. That is why no dissident, and now no artist, will be ever accused of political motivation but rather for criminal offenses. What people need to know is that Decree 349 is not a law, but a way to stop the growing unified artistic movement for freedom of expression in Cuba. They need to understand that the law in Cuba is selectively applied to those uncomfortable to the government.
It is a matter of stopping artists from imagining, producing, and showing art independently.
In these times, when totalitarian efforts are shamelessly growing around the world—specifically in the United States with Trump—we cannot get tired in front of injustice. We can't forgive any injustice, no matter how small, because the next one is built on top off it.
JTP: Thank you. And to let our readers know, what are the projects you yourself are working on currently?
TB: I've been working on the Turbine Hall commission at the Tate Modern, which will be on view until February 24th, and on some new artworks to be shown in India, Italy, the UK, Sweden, and Mexico. I also just launched a new series of works focused on Trump and will soon do some new performances against Decree 349.
JTP: Anything else you would like people to know?
TB: Cuban artists are leading the fight for freedom of expression and we are not going to stop.You can support us by joining our petition to abolish Decree 349. Click here to sign.
Thank you!